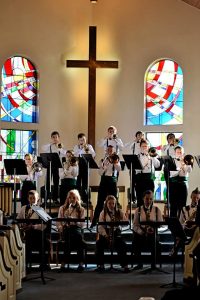 The Warner Pacific Music Department hosts many concerts, recitals, lectures, events, and festivals throughout the year.
Concerts and Events
The Jazz Band, Vocal Jazz Ensemble, Concert Choir, Warner Chorale, and Wind Ensemble host a free concert each semester. Please check our calendar and news feed on the homepage for updates.
October 13 TaKe TiNa with Mary Kogen at 1 pm in McGuire Auditorium
October 26 Harvest Band Concert 7:30 pm in McGuire Auditorium
November 10 Scholarship Days
November 15 Fall Jazz Band and Vocal Jazz Concert in McGuire Auditorium
November 17 Friday Arts at 1 pm in McGuire Auditorium
November 29  Winter Band Concert 7:30 pm McGuire Auditorium
November 30 Advent Chapel at 10 am in McGuire Auditorium
December 1 Friday Arts at pm in McGuire Auditorium
December 2 Grotto Performance at 7 pm in McGuire Auditorium
Festivals (High School/Middle School)
Every year in early spring, WPC music faculty and students serve local area middle schools and high schools by offering three music festivals on campus. These include the High School Choir Festival, the High School Concert Band Festival, and the Middle School Jazz/Concert Band Festival.
The High School Festivals are OSAA state qualifying events.