Thinking About Eating in Portland
Faculty Members: Prof. Derek Moyer &
Prof. Heidi Owsley
Peer Mentors: Regina Bell & Noemi Reyes
Linked Courses:
Fall—EN 95-LC5, Writing & Grammar
Spring—EN 101-LC5, College Composition
What do you eat? How does it get from there to here and why does it matter? What does eating well and eating badly really mean?
In this First-Year Learning Community, students will…
Explore some of the many moral, political, social, economic, environmental, and spiritual implications of eating.
Look into the issues of access to food and practices of eating that are tied to problems of homelessness, poverty, social and economic structures, and city policies.
Dive into the complicated and diverse production and distribution systems that support Portlanders' habits of eating.
See how cities each city has certain eating practices, and how different parts of the cities eat
Hear the perspectives of many members of the city who deal with different parts of our food system, who eat differently, who have different ways of understanding food, who challenge us in different ways about what it means to eat well
---
Meet this FYLC's leaders: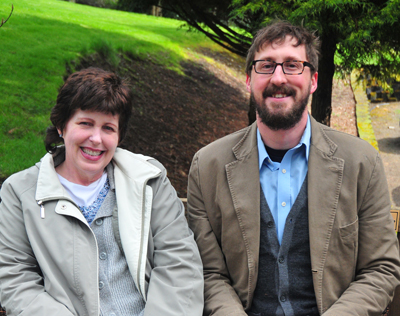 Prof. Owsley: I am excited to teach FYLC because I love working with incoming freshmen.  I also deeply value the close bonds that are made in the course of FYLC.  It is unlike any other teaching experience, and I learn new things each time.  The students are wonderful, and we really get to know each other well in this context, which makes it a much richer learning experience.  No one sits on the sidelines.  Everyone is present in the fullest sense, so the level of engagement is high.  It is a great course!
Prof. Moyer: Teaching in the FYLC program has transformed the way I think about and practice learning. It has taught me that education is a way of life in our world, and not something that primarily takes place in classrooms.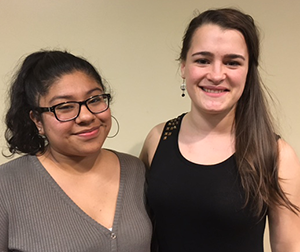 Noemi: I am excited to be a Peer Mentor because I want to really help upcoming freshmen next year in their transition to college. I want to impact each one of my mentees' lives in a positive way and give back to them what my Peer Mentor did for me.
Regina: I am excited to be a Peer Mentor to help bridge the gap between students and professors. I think when students realize professors are there to see them succeed, and when professors realize the heart of their students, each side is more likely to succeed with their goals.