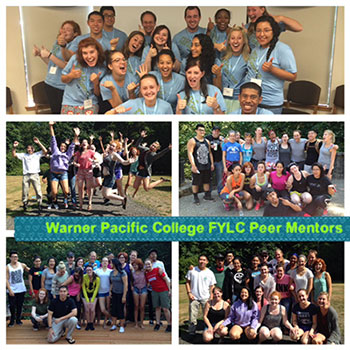 What is an FYLC?
A First-Year Learning Community is a group of 15 freshmen who take two classes together in the fall (an FYLC topic course and a core course) and one core course together in the spring while building strong relationships with each other and their faculty members. Each FYLC has two upper class Peer Mentors who add additional support.
What is a Peer Mentor?
Peer Mentors are upper division students who model success in the academics and responsible involvement in co-curricular activities. They serve as a bridge and co-facilitators between first-year students and the rest of the campus community.
Do I get to choose which FYLC I am in?
Yes, according to your placement testing and in light of any courses you transferred in with, Warner Pacific wants to give students the opportunity to engage in an FYLC that appeals to them. However, each FYLC has limited spots, so it is a first-come-first-serve basis.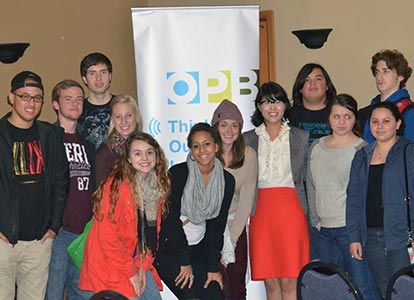 How many students are in an FYLC?
On average, there are around 15 students in each FYLC.
How do I register for an FYLC?
At New Student Registration Day or over the phone, your advisor will help you decide which FYLC interests you the most and which ones are available to you based on your placement testing. Enrollment is assigned on a first-come-first-served basis, so make your selection and register early to ensure you receive placement in your first choice.
What are the advantages of enrolling in an FYLC?
FYLCs are learning-friendly—by taking multiple classes with the same group of classmates, you will form a trusting bond and in turn, will enjoy greater and deeper learning. Warner Pacific believes that we aren't meant to learn in the isolated and/or competitive ways our educational systems are set up to be. We do our best learning with others.
You will experience amazing FYLC courses with dedicated faculty who will help you increase your curiosity, utilizing the city of Portland as one of your texts/contexts for learning.
Two upper class Peer Mentors are part of each FYLC. These mentors are a valuable resource when it comes to answering your questions about college life and offering advice on how to succeed academically.
You will do better academically. National data indicates that students participating in a learning community have higher GPAs and are more likely to persist towards graduation.
How will enrolling in an FYLC affect my schedule?
Register for your FYLC first, and then you can build a convenient schedule around it. All FYLCs are offered on Monday and Wednesday afternoons, so they do not conflict with major classes most freshmen need to take. While Warner Pacific offers only eight unique FYLCs, there are multiple sections of major first-semester freshmen courses offered at different times for your convenience.
I took college writing as an advanced placement course in high school and/or did Running Start and took an English 101 course at a community college. Will this affect my FYLC selection?
Yes! Look at the linked courses for the FYLC you are interested in and confirm that you have not taken these courses as advanced placement in high school or for credit at another institution.

What are students saying about FYLCs?
"I learned that a place that offers more resources will attract more people than one that offers fewer opportunities. Places that have fewer resources may have to struggle for more, often times entering a 'gray area' of justice. . . I learned I should tell the truth and take the responsibilities of college… I learned that we all have stories in our lives and I appreciated others' sincerity and trust." –Michael
"I have learned a lot about the importance of place and its connection to justice… I learned that college isn't scary like I thought it would be… I learned my calling!" –Paige

"This entire semester has been an experience I am sure I will not soon forget. It was unique in the morals it taught as well as advocating the various social injustices that I had never before really thought of. I have grown as a person, had my personal beliefs challenged and reaffirmed, made many friends, and have experienced many epiphanies. Though I wish I had chosen this class myself, I am happy for this unexpected honor. I am excited for the second semester to finally arrive so that I may hopefully experience even more wonders with this class and become closer to my fellow classmates." –Anonymous
What are FYLC students doing in the community?
Here are some of the places FYLC groups visited and projects worked on last year:
Pioneer Special School Program – Youngson and Holladay Sites
Ridgefield National Wildlife Refuge (U.S. Fish & Wildlife)
Earthtones Music Therapy Services LLC
Birch Community Services
Courtyard at Mt. Tabor
Hacienda CDC
Department of Human Services for the State of Oregon
Jeri Williams and the City of Portland Office of Neighborhood Involvement Our United Villages
11:45 Project
Outgrowing Hunger
Growing Gardens
Oregon Food Bank
Portland Farmer's Market
Portland Community Gardens
Street Roots
Dharma Rain Zen Center
Interfaith Council of Greater Portland
Right 2 Dream 2
St. Andre Bessette Catholic Church
CIO – Center for Intercultural Organizing — Projects work on there were

Ban the Box
End Profiling
Driving Cards for non-registered residents

Adult Learning Systems Oregon
St. Francis soup kitchen
OHSU
Portland Water Treatment