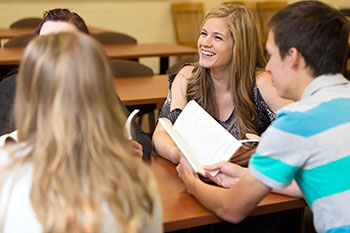 The Center for Teaching and Learning (CTL) was initiated at Warner Pacific in the fall of 2012 through a generous grant from the M.J. Murdock Charitable Trust. The CTL's mission is to increase teaching effectiveness and academic success by providing opportunities for conversation, collaboration, and training around educational purpose, methods,and outcome.
The CTL is a place to innovate and experiment, to imagine new ways of integrating curricular and co-curricular work, and to enrich the intellectual life of the College.
An objective of the CTL includes assisting faculty to adapt their teaching practices to better serve students in being fully engaged in the learning process, with a sense of belonging, increased curiosity, maturing faith and deepened commitment to bring transformation to the world.
CTL staff assist faculty and staff in developing and implementing effective assessment strategies that take into account a holistic and intentional understanding of learning objectives and outcomes. Faculty collaborations include:
individual and group consultations
course and assignment design and evaluation
forums to connect and share with other colleagues
applied workshops and seminars
grant proposal support
digital technology exploration
implementation of Scholarship of Teaching and Learning (SoTL) projects
The CTL fosters open dialogue and creative exchange among faculty, educational staff, and students to design engaging learning environments, share teaching ideas, and discuss pedagogical challenges. We offer programs and sponsor events in a dynamic, centralized environment where energetic exchange, creative innovation, and intellectual community flourish.