How does a small liberal arts college deliver a program on Business?
To those of us who teach at Warner Pacific College this is a critical question, one whose importance becomes more emphatic when you add the fact that we are a Christ-centered institution. Ultimately as Business faculty we have decided that we should teach business in a manner that is technically strong; that produces students who can critically think; and that produces future business leaders who are able to recognize the higher purposes of profit and business.
Our Business program is at the core of Warner Pacific College's mission. If you want to understand the mission of WPC, just look at the Business department's teaching methods (pedagogy) and you will understand the DNA of our college.
Warner Pacific's model for teaching business begins with a purpose. This purpose is anchored by Matthew 5:13 -16 where Jesus discuses salt and light. In this section of scripture, Jesus tells us that His followers are the salt of the earth and the light of the world. In our department this becomes the purpose for teaching business. We are educating our students to be salt and light within their chosen professions. It doesn't make any difference whether the student becomes an accountant or an entrepreneur, they recognize the higher purpose and call of serving God within their profession. Our process is displayed within the model below.
The model begins with a sunburst. This illustrates a generative order. In other words, it describes a changing macro-environment that places demands on our Business program, driving us to develop curriculum that meets  current demand, as well as a methodology that keeps our students interested. The academic discussion and theoretical application is constantly adjusting due to the changing order. This does not mean that specific programs change, just how those programs are taught. With Accounting there are certain givens that must be taught. However, how we frame the discussion around those givens can adjust.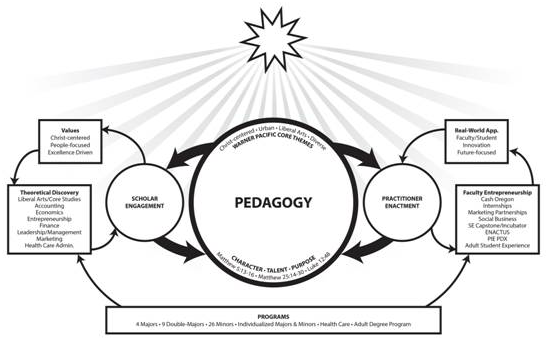 There are two internal drivers that impact the pedagogy of teaching business at WPC. As a Christ-centered institution our desire is to serve Christ, this desire helps to breed distinctiveness within our business program. That is the first driver. If we don't teach Business in line with our College's mission, then we are not being faithful to the ethos of our institution. If we teach business just like a Portland State, Oregon State, or a Washington State, we are not being faithful to our Christ-centeredness.
As a result of this internal driver, there are three scriptural benchmarks that help us with our distinctiveness. Matthew 5:13-16 is the first benchmark (as mentioned above). We describe this set of scripture as relating to character. Our Business program produces students of character that are being salt and light within the world they interact in. The second scriptural benchmark involves skill. Matthew 25:14-30 tells us the importance of having and using talents. Therefore, our Business program develops students with strong business skills. Lastly, Luke 12:48 tells us that to whom much is given much is required. Therefore, the purpose of our education is to help our students see the importance of giving back to the community. Thus, Character, Talent, and Purpose become the foundation of our pedagogy.
The second internal driver illustrated within the below model is the ethos of the College as it relates to our core themes. We are a Christ-centered, liberal-arts institution that is urban and diverse. Therefore, our program must be influenced by these core themes. It must be reflected in what we teach and what we do as we are "in the city, for the city."
The pedagogy that emerges from this external/internal constructive tension then is a scholar-practitioner application resulting in four majors, nine double-majors, twenty-six minors, and the possibility of many individualized minors and majors.
The actual practice of this pedagogy is expressed via engagement within the classroom and enactment in the community. The engagement of our students within the classroom leads to theoretical discovery. In the classroom we see the values of the College emerge as we teach our subjects, and we see student talent developed.
The enactment involves the connection of faculty and students with the community. By ensuring students get real world experience through faculty entrepreneurial passion, the students observe what innovation is and what the future holds for them. By using engagement and enactment as a foundational strategy for teaching Business at WPC we develop students who are prepared for the challenges of the 21st century.
This is why one can argue that teaching business within a liberal arts setting is a marriage made in heaven. Not only do we educate and develop students with strong business skills; we also develop students modeling character, talent, and purpose. These students then reflect the values of the College: Christ-centered, people-focused, excellence driven, and future focused.  This is the Department of Business's organizational DNA.
(by Roger Martin)