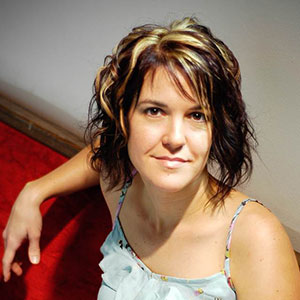 Nicole (Yerden) Wells, '98
Warner Pacific College is honored to award the 2014 Distinguished Young Alumna Award to musician and songwriter, Nicole (Yerden) Wells, '98.
Nicole grew up in the Church of God (Anderson, Indiana). Her father was a pastor and as a child she and her family spent their summers singing at churches and events throughout the U.S. Nicole began writing music when she was 9 years old with the support of her mother, who also served as her piano teacher and mentor. She exhibited a natural talent for music, and by the time she was 12, Nicole was giving music lessons to others.
While studying at Warner Pacific, Nicole taught 30 students per week to pay for her education. She graduated from the College in 1998 with a degree in music. During her time at Warner Pacific, she met and married Steve Wells. They have two boys, Chandler and Landon, and their family is actively engaged in activities and service groups in their community. She and Steve have worked in vocational youth ministry, music ministry, senior pastor ministry, and church planting. They currently serve as lay leaders in a ministry focused on recovery. The Sherwood Arts Foundation, Sherwood Soccer, Voices for the Performing Arts, the YMCA, Hopkins Elementary School, and the Robin Hood Festival have all benefited from the participation of Wells family members.
In September 2013, Nicole was awarded the grand prize from the West Coast Songwriters at the live competition finals in the category for Best Song. Nicole competed against songwriters from three West Coast states and with her song, "I Know it's You," she became the first Portland district winner to win the grand finals.
Nicole teaches private lessons for both piano and violin, and shares her music while leading worship at conferences and retreats. Her artistic style has been described as, "folksy Americana-pop," and draws heavily from her personal faith and life experiences. In addition to songwriting, Nicole also performs regularly as a soloist and with her sister in The Carlson Wells band.