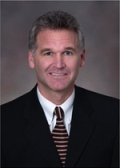 Kerry S. Kuehl, '81
Warner Pacific College is honored to recognize Kerry S. Kuehl, '81, with the 2014 Distinguished Alumnus Award for Professional Achievement. Kerry Kuehl, M.D., Dr.P.H., M.S., and his colleagues at Oregon Health & Science University are transforming lives by improving healthcare outcomes. Through leading-edge research, Dr. Kuehl is demonstrating the powerful impact of lifestyle on health and providing innovative solutions to help motivate and bring about positive lifestyle change in patients.
Kerry graduated from Warner Pacific in 1981 with a degree in health and ministry. During his time at the College, Kerry developed lifetime friendships and received mentorship from faculty and staff, alike. As a student, Kerry was fortunate to meet Shanon Gaither in Anatomy and Physiology lab, and the two were married soon after. He went on to attend Loma Linda University School of Medicine, where he received an M.D. and a Dr.P.H. degree in nutritional epidemiology. There he received the outstanding medical student research award and after graduation from medical school, moved back to Oregon.
After returning to Oregon for residency training in Internal Medicine, he re-joined his mentors Linn Goldberg, M.D., and Diane Elliot, M.D., in the Division of Health Promotion & Sports Medicine at OHSU. Dr. Kuehl's earliest research reveals a passion for Lifestyle Medicine: comparing exercise to medication in the treatment of hypertension, and comparing nutrition to medication in the treatment of high cholesterol. Recipient of a prestigious career development award from the National Institutes of Health, Dr. Kuehl's research involved evaluating lifestyle diet and exercise strategies to reduce weight and diabetes among overweight, sedentary primary care patients. From this research, Dr. Kuehl has shown the beneficial effects of prevention versus treatment of disease in improving health and reducing costs.
Currently, Dr. Kuehl is a Professor of Medicine and Co-Director of the Human Performance Laboratory at OHSU. He is a teacher, researcher, and practicing physician specializing in sports medicine for the athlete as well as occupational medicine as it relates to improving wellness and safety in the workplace to reduce illness and injury. Dr. Kuehl has established himself as a leading researcher for first responders and has been on the frontlines with national and international police and fire service organizations the past two decades. He is on the national physician panel for police and fire agencies which sets the standards for the health and safety of these high risk workers. In addition, Dr. Kuehl is the lead researcher on the SHIELD study, an NIH funded health and safety program for law enforcement personnel and the principal investigator of the Health Promotion and Protection of Oregon Correctional Officers study evaluating the effects of a team-based health and safety program on the high health risks and occupational hazards of these workers. Dr. Kuehl has published over 100 scientific and 200 lay articles and is currently serving on the Editorial Board of Frontiers in Public Health Education and Promotion. He is a sought after speaker on the topics of healthy diet and exercise in the treatment and prevention of disease.