Warner Pacific Alumni go on to successful careers in areas such as business, healthcare, law, politics, education and ministry, while also continuing to live the Warner Pacific experience. We encourage alumni to stay connected to the Warner Pacific family, and are always interested in updates and stories about their ongoing journeys.
The Alumni Association is vital to the life and mission of Warner Pacific College, helping maintain our extended campus community. Through the Alumni Association, graduates can connect with Warner Pacific alums and find ways to engage in Warner Pacific campus activities.
Meet WP's Alumni Council President Garth Hamilton '98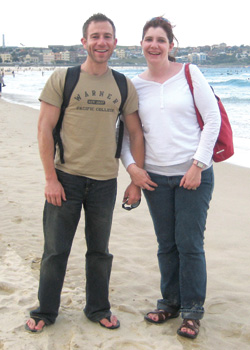 Greetings, fellow Warner Pacific alumni. I graduated from Warner Pacific in 1998 with a B.A. in Religion and Christian Ministries. That same year, I married my beautiful wife Kathy (Eason) Hamilton '98 on campus,"packing the house" in McGuire Auditorium. Kathy and I are expecting our first child, a baby girl, on September 7.
Coming from a strong family line of college supporters (the Perrys,the LaVelles,the Hamiltons), I was looking forward to attending Warner Pacific for much of my young life and my actual experience at Warner Pacific exceeded my expectations. I credit my quality education for preparing me for my ongoing tenures at Delta Airlines, as youth pastor at Aloha Church of God, and as the current WP Alumni Council President.
This is where we, the alumni of Warner Pacific, come into the picture. Our diverse experiences at Warner Pacific, the relationships that we developed there, and the impact that the college has had on our lives all add up to more than a mere history with this school. We are also vital to the future of WP!
I encourage each of us to reflect upon how Warner Pacific has shaped our lives and how we can use our passions, strengths, and gifts to support the ongoing mission of the college. I encourage each of us to stay involved with Warner Pacific and to stay connected with the people who share our Warner Pacific heritage.
As God lays upon your heart the various ways that you may be able to serve (or to simply enjoy fellowship with our fellow alumni), feel free to contact me or a member of the WP staff with any creative suggestions. Please familiarize yourselves with the exciting alumni events that are already on the calendar. I look forward to connecting with you soon!
In Christ,
Garth Hamilton '98
WP Alumni Council President