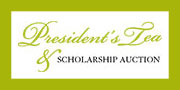 Dr. Andrea Cook, President of Warner Pacific College, invites you to support Portland's next generation of urban and diverse leaders at the President's Tea & Scholarship Auction. All proceeds from this event benefit Act Six Scholars.
Saturday, April 12, 2014
11:30 am – 3:00 pm
Egtvedt Hall/McGuire Auditorium (Mt. Tabor Campus)
For more information, contact the Office of Advancement at 503.517.1114 or email.
Thank you to our major sponsors