We invite you to enjoy the beautiful music and melodic voices of Warner Pacific's musicians and vocalists at these free Spring concerts.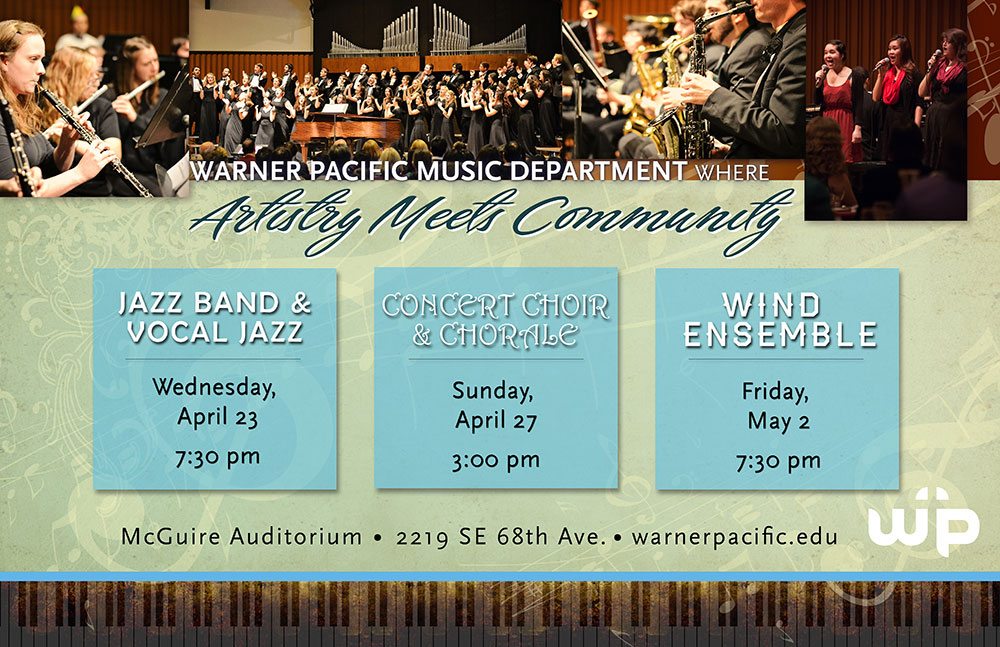 The last concert of the academic year is Friday, May 2, featuring the Warner Wind Ensemble will feature a variety of concert band works, including the landmark Second Suite for Military Band by Gustav Holst, Puszta (Four Gypsy Dances) by Van der Roost, a new suite of music from Les Miserables and works by Konagaya, Mackey, and Wagner.  In addition, the Warner Brass Choir will be featured, featuring works by Gabrieli and Mozart.
On Wednesday, April 23, the Warner Pacific Jazz Band will perform an upbeat potpourri of straight ahead swing, rock, and Latin charts. It'll sizzle! Followed by the Warner Pacific Vocal Jazz presenting an engaging and entertaining set of music of swing, Latin, contemporary, and ballad styles, with arrangements inspired by artists such as Stevie Wonder and The Manhattan Transfer.  This vocal package is loaded with beauty, fun, and groove!
On Sunday, April 27, the Concert Choir and Warner Chorale will be presenting an entertaining and engaging concert including many genres of choral literature, from classical to contemporary. Contributing composers: Mendelssohn, Whitacre, Courtney, and Tallis. Both choirs join with special guest, Bridgetown, for a climactic closing performance!