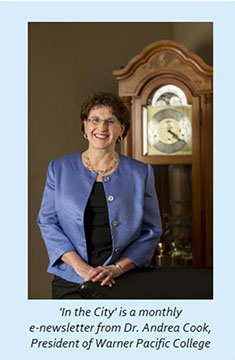 [By Dr. Andrea Cook] Considering all of the colleges in the Carnegie classification throughout 14 states in the West, Warner Pacific College was recently ranked as one of the Top 10 Regional Colleges by the U.S. News & World Report in their Best Colleges 2014 edition! Colleges were ranked using a robust methodology, which includes graduation and retention rates, assessment by peers, faculty resources, financial resources, and graduation rate performance. On top of the overall ranking, Warner Pacific was also named as a "Great School at a Great Price" by the U.S. News & World Report.
I am proud to see Warner Pacific's trajectory heading in such a positive direction, and I have no doubt that our institution's advancement comes directly from our coherent mission. As a small college, I applaud our students, staff, faculty and administration as our community is honored and nationally recognized. Warner Pacific students experience a unique blend of rigorous study and authentic relationship, which provides them with the confidence they need to seek a career that is both professionally rewarding and personally fulfilling.
I think these rankings highlight the hard work we have done to create an environment where students from diverse backgrounds flourish. See a breakdown that reflects different sub-categories of rankings below:
9 Overall Rank in WEST
9 Best Value Schools
7 Highest Proportion of Classes With Fewer Than 20 Students
5 Highest 6-Year Graduation Rates
14 Freshman Retention Rate
2 Economic Diversity
1 Economic Diversity Among the Top 25 Ranked Schools
14 Campus Ethnic Diversity
What the Rankings Don't Tell Us
We know that college rankings have become an important measurement tool being used by the public. Educational rankings for public elementary and secondary schools dramatically impact how families, for those who have the option, make decisions regarding where they will live. As it relates to public and private higher education institutions, rankings also seem to impact how families make financial decisions as high school students discern their college choice. Regardless of how the indicators are chosen or how well they are understood, people depend on rankings. While I understand the framework for this decision-making, I think we ought to look deeper when considering which college is "the best."
I work in higher education because I am called to prepare the next generation of Christ-centered leaders to engage a constantly changing world. Each institution has its own unique strengths and weaknesses, yet college rankings like U.S. News & World Report rarely get to the heart of the matter for me. I'm concerned that rankings aren't engaging the important nuance that makes a place special. If I were a parent or prospective student, I would want to know: Does an institution practice what it preaches? Does an institution live out its mission? What does the institution do to challenge its students in ways that others do not?
Of course, I am proud of Warner Pacific's most recent rankings; however, as rankings fluctuate year-in and year-out, I think it is important to note that Warner Pacific's success can be found in much different indicators than only those quantitative measures that the rankings rely upon.
I recently read an article in the New Yorker by Malcolm Gladwell, who shared some research from Patrick Terenzini and Ernest Pascarella on the effects of college on students. After reviewing 2,600 reports they concluded:
After taking into account the characteristics, abilities, and backgrounds students bring with them to college, we found that how much students grow or change has only inconsistent and, perhaps in a practical sense, trivial relationships with such traditional measures of institutional "quality" as educational expenditures per student, student/faculty ratios, faculty salaries, percentage of faculty with the highest degree in their field, faculty research productivity, size of the library, [or] admissions selectivity.
At Warner Pacific, we are not working to measure our success by the inputs that students bring with them (i.e. admissions selectivity) or by the size of our library or endowment. We measure our success by the transformation we see take place in the lives of our students. There are qualitative aspects to college, and I believe our students experience something special and unique at Warner Pacific.
We are committed to the city. We are serving an incredibly diverse student population, and we are committed to being accessible to students who would never dream of attending a private Christ-centered liberal arts institution. To be a student at Warner Pacific is to be ahead of the curve in acknowledging a deep trend that we see in our world-cities are growing and the world is diversifying. Whether a student is from Enterprise, Oregon or Northeast Portland, at Warner Pacific College, he or she will study in a community that reflects the future of our world.
Warner Pacific is committed to keeping a low student/faculty ratio, and I am proud of that fact. I'm just not convinced that we are placing that value in the right place. We believe small classes are important because we want to make sure that each student has access to his or her faculty member. At Warner Pacific, having access to faculty mentoring is a hallmark of our student experience. Additionally, we believe small classes are important because they are comprised of students who come from different cultures; we don't want our students to miss the opportunity to engage one another! Combine these variables with our Christ-centered commitment toward unity in diversity, and a new question emerges:
Are we measuring all of the right things?