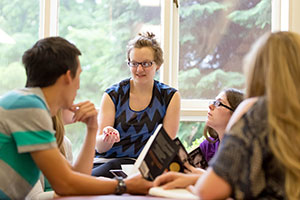 Your gift directly supports our students as they grow and flourish at Warner Pacific.
With only $20,000 left to raise by May 30, 2015, we are already over 97% of the way to $810,000 fiscal year end goal. Please join us by donating to the Annual Fund today!
There are several ways to give:
Unrestricted donations support the Warner Pacific Annual Fund and ensure operational strength of the College, including support for student scholarships.
Restricted donations allow you to designate your gift to a specific area, including the Scholarship Fund and the Act Six program.
Giving to endowment funds have an ongoing impact as the initial gift remains in the endowment and a portion of the interest is used for specific purposes.
For more information about gift options that meet your interests, please contact our office at 503.517.1220.
Thank you for your generosity and your investment in the future of Warner Pacific College students!