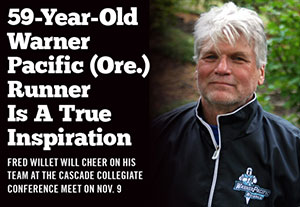 (From NAIA.org): Running is considered a lifetime sport. While speed and endurance may fade, it's an activity that can be enjoyed by people of all ages. Still, it's not often you find a 59-year-old man who can handle the competition of collegiate athletics, regardless of sport.
That didn't stop Fred Willet, an Army veteran who enrolled at Warner Pacific (Ore.) under the G.I. Bill. "When I first got to Warner Pacific, I was looking at the athletics website and saw that they offered cross country and track & field," Willet said. "I thought I might as well try out for the team, since it's something I have done all my life."
Read the rest of the NAIA blog about Fred, including receiving his NAIA eligibility and how natural it was for this life-long runner to become an inspirational part of the current WPC cross country team.