Holiday Closures
All Warner Pacific campuses and offices are closed:
November 26-27
December 24 – January 3
Join us for Advent Brunch (December 5)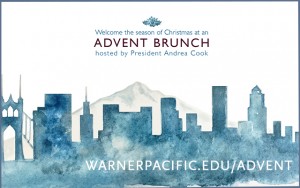 Please join us for the 4th Annual Advent Brunch hosted President Andrea Cook; a joyful time of fellowship, reflection, and renewal.
Details
Saturday, December 5
10 am – 12 pm
Gourmet Brunch
Help us spread joy this season by bringing and donating a new or gently used children's book for the Children's Book Bank Drive and help us give kids throughout Portland the gift of reading
Tickets are just $25 per person or $175 for a table of 7 guests
Get your Tickets

Purchase your tickets  ($25 per person or $175 for a table of 7 guests) by registering securely online or contacting Diane Minor: email or 503.517.1114
Please RSVP by Monday, November 30
Give the Gift of Reading
We are excited to once again partner with the Children's Book Bank, supporting  their work to bring the gift of reading to kids throughout Portland. Easy access to books is foundational to literacy development. Scarcity of books in the home is one of the greatest obstacles that must be overcome by children living in poverty. Children with books in the home become better readers and do better in school.
Please bring your new or gently used books to the brunch and help us give  Portland's most vulnerable children the gift of reading. Types of books most in need are Dr. Seuss and Spanish-language books. Other requests are: picture books, board books, alphabet books, and counting books. (New books are preferred for Christmas.)
Click here to purchase books specially requested by the Children's Book Bank.

A "Best Online College" in Oregon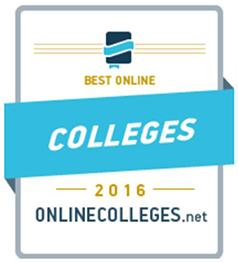 Warner Pacific has been recognized by OnlineColleges.net as a top choice for online education in Oregon – placing in the top 10 of their online list!
They carefully reviewed every college offering fully online degree programs in Oregon, and Warner Pacific College is one of the best choices for students in 2016.
They evaluate online offering using a complex methodology that compares academics, student experience, and online programs, resulting in a clear picture of the best online colleges in each state.
"Since online education began in the 1990s and really took off in the 2000s, it has evolved from a rarely-used educational supplement to a viable option not only for adult learners and full-time professionals, but also for first-time students." Since 2009, Online Colleges has been a free resource for online education and obtains their information about listed institutions from the Integrated Postsecondary Education Data System (maintained by the National Center for Education Statistics).
Winter Concerts in December (Free)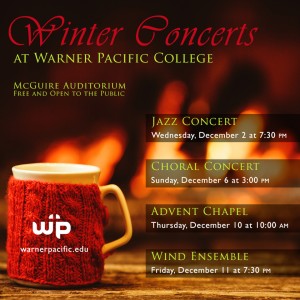 Warm up this winter with concerts at Warner Pacific.
Jazz Band & Vocal Jazz
Wednesday, December 2
7:30 pm
Concert Choir & Warner Choral
Sunday, December 6
3:00 pm
Advent Chapel
Thursday, December 10
10:00 am
Wind Ensemble
Friday, December 11
7:30 pm
All concerts, hosted in the College's McGuire Auditorium (2219 SE 68th Ave., Portland), are free and open to the public.
Named a 2016 Military Friendly® School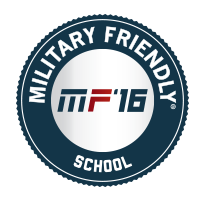 Warner Pacific College's commitment to providing a supportive educational environment for military students was acknowledged nationally as the College was named to the prestigious Military Friendly® Schools list for a 6th year.
The 2016 Military Friendly® Schools list honors the top 15 percent of colleges, universities, and trade schools in the country that are doing the most to embrace America's military service members, veterans, and spouses as students, ensuring their success on campus. Institutions competed for the elite Military Friendly® School title by completing a survey of over 100 questions covering ten categories, including military support on campus, graduation and employment outcomes, and military spouse policies.
As military personnel seek to expand their education after retirement, or while still on active duty, the convenience presented through the Warner Pacific Adult Degree Program's once-a-week class schedule and online courses is the best path to completing a degree that will be beneficial in civilian life or in furtherance of an Armed Forces career.
For over 25 years, Warner Pacific's Adult Degree Program (ADP) has offered flexibility for adult and working students. Meeting just one evening a week and providing a high quality education in a cohort setting, adult learners flourish with one of Warner Pacific's five undergraduate and three graduate level programs through the ADP offered at six locations across the Portland area and online.
About Military Friendly® Schools: The Military Friendly® Schools designation process includes extensive research and a data-driven survey of schools nationwide approved for Post-9/11 GI Bill funding. The school survey, methodology, criteria and weightings are developed with the assistance of an independent Academic Advisory Board comprised of educators from schools across the country. The survey is administered for free and open to all post-secondary schools who wish to participate. Criteria for consideration can be found on our website, militaryfriendly.com, and a complete list of schools can be found through our Schools Matchmaker tool on http://www.gijobs.com.
About Victory Media: Victory Media is a service-disabled, veteran-owned business serving the military community since 2001. Our data-driven lists are published in G.I. Jobs®, Military Spouse, and Vetrepreneur® media channels, republished in periodicals such as USA Today, Wall Street Journal, Fortune, Bloomberg BW, and frequently cited on national TV by NBC, ABC, CBS, CNN, CNBC, Fox News and others.
Knights named to the all-Cascade Collegiate Conference men's soccer team
Congratulations to our men's soccer team on their successful 2015 season. The Knights finished sixth in the 14-team league with an 8-4-1 Cascade Collegiate Conference record.
Knight Mario Guizar, a senior midfielder, was named to the all-Cascade Collegiate Conference men's soccer team for 2015
Goalkeeper Joe White, sophomore, made the all-CCC second team, along with teammate Cesar Esquivel, a senior
Honorable mention went to senior defender Edgar Zapeda
Lady Knights women's soccer players Carley Turner, Brittney Yoshimura, and Mariah Liebert were named All-Cascade Conference as well.
Students Present Research at Murdock College Science Research Conference
At the recent Murdock College Science Research Conference (November 6-7) hosted in Vancouver, two Warner Pacific science students presented research posters. Science posters are a key component of communicating a snapshot of research and are intended to invite conversation about the work.
The Conference focuses on sharing and advancing new knowledge in the natural sciences that were created or discovered through collaborative faculty-student research at the eleven MCSRP funded colleges and universities in the Pacific Northwest.
Warner Pacific College was one of 31 schools in attendance. Both students presenting at this Conference assisted Chair of the Natural Sciences & Health Department, Dr. Elizabeth DuPriest, with research over the summer break.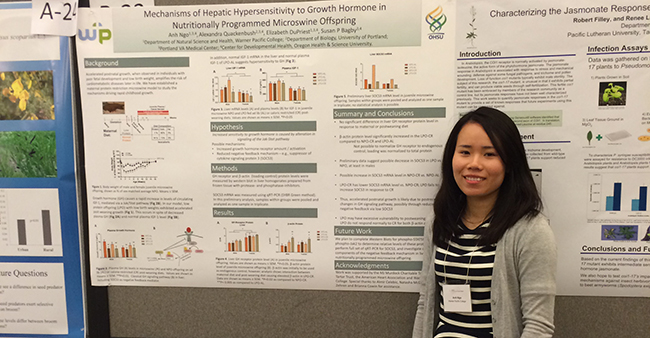 Anh Ngo, who will be graduating in December, presented a poster about Mechanisms of Hepatic Hypersensitivity to Growth Hormone in Nutritionally Programmed Microswine Offspring. Anh will also be presenting her research poster at the Sigma Xi Columbia-Willamette Chapter Student Poster Presentations session at Portland State University later in November.
Natasha McDougal's poster was about Adipose Tissue Transcription Factor Expression in Nutritionally-Programmed Offspring. Natasha is graduating in May 2016.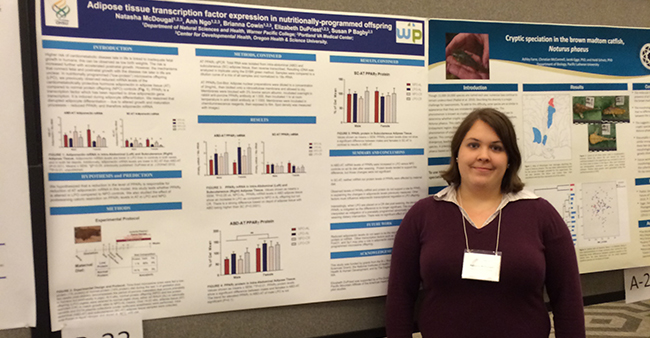 After graduation, Anh is proceeding to graduate school at Oregon Health Sciences University in their Biomedical Engineering Ph.D. program. Natasha is advancing to a doctoral level program in Naturopathic Medicine.
You are invited to the FYLC Fall 2015 Final Events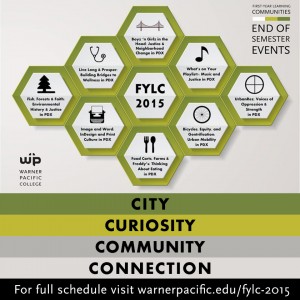 The First-Year Learning Communities (FYLCs) at Warner Pacific invite you to share in their first-semester experiences through a series of community events.
At these events, our freshmen will engage with fellow students, local service partners, and members of the Warner Pacific community through the shared exploration of the four FYLC values: City, Curiosity, Community, and Connection.
Each FYLC uses their chosen topic as a lens through which students are invited to examine their personal experiences with questions like, "who am I?",  "why am I here?", and "how can I learn from the city I call home?"
Fall Event Schedule
Date
FYLC / Event

Location on Campus
Thursday, December 3
6:00 – 7:30 pm
HUM 164- LC 3: Fish, Forests, and Faith: Environmental History and Justice in PDX

EVENT: Student projects about social justice issues related to the environment in Portland.  Desert and refreshments provided.

Center for Teaching & Learning
Monday, December  7
1:30 – 3:oo pm
HHK 160-LC8: Live Long and Prosper: Building Bridges to Wellness in PDX
Egtvedt Hall Room 203
Monday, December 7
6:00 – 7:30 pm
HUM 160-LC1: Boyz n Girlz in the Hood: Justice and Neighborhood Change in PDX
Egtvedt Hall Room 203
Tuesday, December 8
6:00 – 7:30 pm
MUS160-LC4: What's on Your Playlist?: Music and Justice in PDX
McGuire Theatre
Wednesday, December 9
1:30 – 3:00 pm
HUM 161-LC7:  Image and Word: InDesign and Print Culture in PDX

EVENT: Students will showcase the marketing and promotional pieces they created for Saint Andre Bessette Catholic Church.

Center for Teaching & Learning
Wednesday, December 9
6:00 – 7:30 pm
HUM 165-LC5: Food Carts, Farms, and Freddy's: Thinking About Eating in PDX
Kardatzke Hall
Monday, December 14
1:30 – 3:00 pm
HUM 162-LC2: Bicycles, Equity, and Gentrification: Urban Mobility in PDX
Egtvedt Hall Room 203
Monday, December 14
6:00 – 7:30 pm
HUM 163-LC6: UrbanRez: Voices of Oppression & Strength in PDX
Egtvedt Hall Room 203
Athletes earn Academic All-Conference Recognition
Seventeen Warner Pacific athletes are among a total of 339 Cascade Collegiate Conference student-athletes in the fall sports of men's and women's soccer, men's and women's cross country, and volleyball have earned U.S. Bank Academic All-CCC honors for their performances in the classroom, the conference office announced on October 27, 2015.
To earn recognition as a CCC scholar-athlete, a student must have a minimum cumulative GPA of 3.2 and sophomore standing.
Read more and view the list of Knights who earned this recognition….
Free Family Fall Festival at WPC on October 29 (fun for everyone!)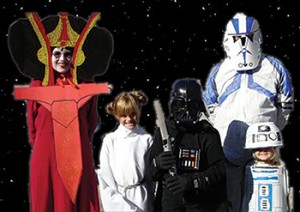 Spooky fun for the whole family at this free family event with a Star Wars flare.
Come wearing your favorite costume (kids and adults)!
What:  "Return of the Fall Festival" (Star Wars themed)
When:  Thursday, October 29, from 5:30 – 8:30 pm
Where:  Warner Pacific College campus – 2219 SE 68th Ave. (cross street is SE Division)
Family Fun events in Kardatzke Hall (5:30 – 7:15 pm)
Haunted House in the Student Union Building (6:00 – 8:00 pm)
Concert in McGuire Auditorium (7:30 – 8:30 pm)
 Free family fun includes:
Face painting
Photo booth
Treats of course
Games for the kids
Haunted House (6 – 8 pm)
Concert featuring works from the Star Wars Trilogy (7:30 – 8:30 pm)
Costume Contest during the concert