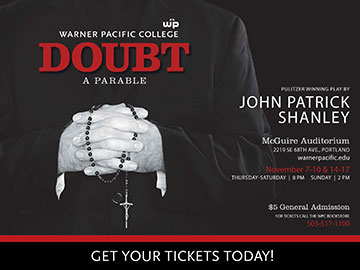 The WPC Drama Program presents Doubt, A Parable by John Patrick Shanley.
Set in 1964 at a Catholic school in the Bronx, school principal Sister Aloysius takes action when she suspects Father Flynn of having improper relations with a student.
Doubt examines a human tendency to convict others with our own convictions and to doubt others with our own doubts. Of the play in performance, New York Times theatre critic Ben Brantley observes, "Even as Doubt holds your conscious attention as an intelligently measured debate play, it sends off emotional stealth charges that go far deeper."
Doubt won the 2005 Pulitzer Prize for Drama and the Tony Award for Best Play.
November 7 – 9,  and November 14 -16, shows start at 8 pm
Sunday, November 10 and 17, matinee starts at 2 pm
After Sunday's performance, stick around for "Talkback" with the actors and directors.
McGuire Theater
Call 503.517.1100 for tickets