Warner Pacific College Music Department presents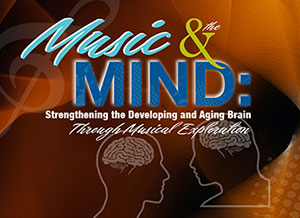 Music & the Mind: Strengthening the Developing and Aging Brain through Musical Exploration, a free presentation with Dr. Larry Sherman, a neuroscientist at the Oregon Health & Science University. This free event is open to the public and will take place on Friday, October 18, 2013, at 1 p.m. in McGuire Auditorium on the Mt. Tabor Campus of Warner Pacific College; brown bag welcome. (Download/print full fall schedule of Music Department events.)
Dr. Larry Sherman, a musical neuroscientist at the Oregon Health and Science University in Portland, Oregon, will provide insights into some of the most exciting brain research in recent years – the connection between music, brain development and the ways music can prevent or delay brain aging and help patients with damage to the brain. In this multi-media experience, Dr. Sherman mixes musical performances, humor and neuroscience to reveal the amazing connection between music and human brain function.
"We are so excited to welcome Dr. Sherman to our campus," said Professor Jennifer Cameron, Chair of the Warner Pacific College Music Department. "He is not only a brilliant scientist but also a gifted musician with a passion for sharing his knowledge in uniquely engaging ways. We believe that this event will be an educational and enjoyable time for everyone in attendance."
Dr. Larry Sherman is a professor in the Department of Cell and Developmental Biology and in the Neuroscience Graduate Program at the Oregon Health & Science University. He is also the President of the Oregon Chapter of the Society for Neuroscience. He has over 80 publications related to brain development and neurodegenerative diseases including Alzheimer's disease and multiple sclerosis. He serves on a number of US and international scientific review panels for the US National Institutes of Health, the US Congressionally-Directed Medical Research Programs, and others. The Oregon Museum of Science and Industry and Portland Monthly Magazine recognized Dr. Sherman as one of the "People who are changing our world." He was also the 2012 Teacher of the Year at the Oregon Health & Science University School of Medicine.