Vice President for Community Life and Chief Diversity Officer
Email:dglenn@warnerpacific.edu
Phone: 503.517.1056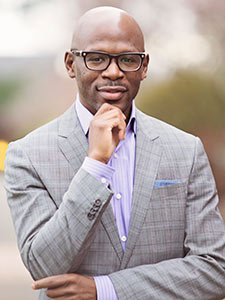 Dr. Daymond Glenn is the Vice President for Community Life and Chief Diversity Officer at Warner Pacific College in Portland, Oregon. In his role as Vice President for Community Life & Chief Diversity Officer, Dr. Glenn oversees Student Affairs, Campus Ministries, and the Office of Diversity. Dr. Glenn has held administrative and faculty posts at various colleges where he has taught undergraduate and graduate courses on multicultural education, educational theory, and race and education.
Dr. Glenn approaches education from a critical perspective, and he is concerned with addressing the disparities that exist between groups in schools and society. Dr. Glenn is particularly interested in examining how knowledge is constructed and cultural values are normalized, understanding the impact of unjust power and unearned privilege, and transforming unjust, oppressive, and marginalizing situations into those that are socially just, equitable, and liberating for all people in schools and society.
Dr. Glenn's research interests include the college experiences of undergraduate Black males attending predominantly White institutions, conceptualizing, rethinking, and addressing multicultural education, critical multiculturalism, college diversity policies, and hip-hop culture. When not engaging in educational research, Dr. Glenn tries to constantly pay attention to popular culture's impact on schools and society.
Dr. Glenn is the author of Critical Condition: Black Males and Multiculturalism in Higher Education. In his book, Dr. Glenn discusses the challenges, complexities, and possibilities of Black males and multiculturalism in predominantly White institutions of higher education. Dr. Glenn is hard at work on a second edition of his book that examines hip-hop's role in understanding the plight and predicament of Black males in schools and society.
Dr. Glenn holds a Bachelor's degree in Social Science form Portland State University, a Master's degree in Educational Administration from Lewis & Clark College, and a Doctoral degree in Educational Leadership from Lewis & Clark College.