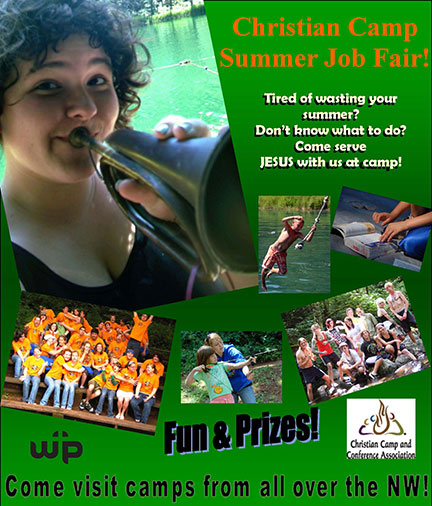 Tired of working retail for the 3rd summer in a row? Looking for a summer job with a purpose? Come check out the Christian Summer Camp Job Fair.
There are many ministries from all over the Northwest coming to meet YOU!
Positions are available in youth counseling, adventure camping, horse camping, challenge course facilitating, kitchen staff, life guarding, housekeeping, and more.
When: Friday, January 24, from 10 am until 2 pm
Where: Egtvedt Hall, Room 203
Hosted by: Christian Camp and Conference Association
Participating Camps:
Lazy F Camp and Retreat Center
Missions Springs Conference Center & Frontier Ranch Camp
Camp Firwood
Camp Lutherwood Oregon
Yellowstone Alliance Adventures
Warm Beach Camp and Conference Center
Camp Tadmor
Camp Tilikum
Lutherwood Camp and Retreat Center
Cascades Camp & Conference Center
Glacier Camp
Ghormley Meadow Christian Camp
Canyonview Camp
YD Adventures – Oregon
Drift Creek Camp