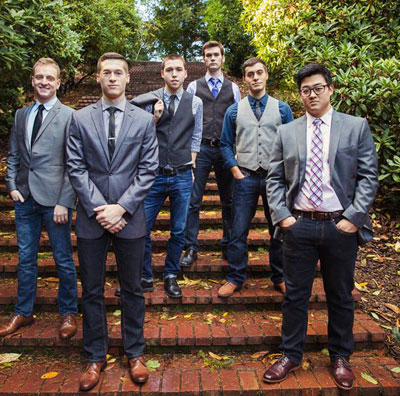 Warner Pacific's vocal group has burst on to the scene with incredible harmony and a powerful message….Bridgetown.
As a music ministry of Warner Pacific College, this talented group of young men perform all around the Northwest on behalf of the college. Order your CD now. The 2013 Christmas CD is still available. Order online or pick up a copy at the Warner Pacific bookstore.
Does your event need powerful and dynamic entertainment? Bridgetown is open for booking at your church or ministry gathering. For booking information contact Michelle Collins at 503.517.1150 or bridgetown@warnerpacific.edu
Current Schedule
April 23- Barlow High School at 9:25 a.m.
May 3- Kelsey Davisson Senior Recital (McGuire Auditorium at 7:30 p.m.)
May 9- Spring Commencement, New Hope Church at 10:30 a.m.
May 12- Rex Putnam High School at 11:40 a.m.
May 13- Clackamas High School at 12:15 p.m.
May 20- David Douglas High  School at 12:25 p.m.
Listen to Samples
This Christmas:
Starry Night
O Come O Come Emmanuel:
Josephs Lullaby:
Something Glorious:
In Christ Alone:
Nearing my God to Thee: