The BA/MAT program is for students pursuing an Initial Teaching License for middle/high school level instruction.
The program is streamlined. When you graduate in May, you will continue immediately into your MAT program, ending in mid-December and you will graduate having completed your BA or BS and MAT.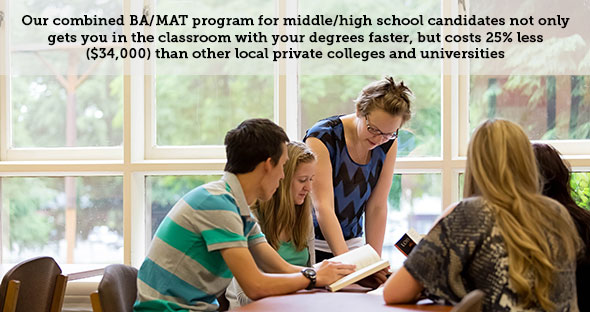 Students who complete all of the requirements for this program become eligible for an Oregon teaching license on graduation in one of the following TSPC approved content areas: advanced math, biology, language arts, music, or physical education/health.
If you already have a Bachelor's degree from another accredited college or university, you can earn your MAT through our Adult Degree Program.
The Warner Pacific Way:
The typical undergraduate program for secondary education can take 5 or 6 years to complete and you will still be required to earn your master degree within 10 years of graduation, but our program takes less than 5 years to complete 2 degrees.
Engage in core classes and explore content areas
Choose your approved content area for study
Begin application and testing process
Finish content area course requirements
Graduate in May with your Bachelor's degree
Year 4.5 (May to December):
Begin MAT program immediately
Student teach in your content area from August to December
Graduate in December with your MAT
The MAT admission requirements include:
A Bachelor's degree from Warner Pacific College
Prerequisite courses (listed below or at link?)
Passing scores on a TSPC (Teacher Standards & Practices Commission) approved basic skills exams (reading, writing, math)
TSPC content exams for your content area
TSPC Civil Rights examination
Program application form
A goal statement
3 letters of recommendation
A writing sample demonstrating proficient writing ability
10 hours of observation gained in ED 415/515
Finger print clearance from TSPC
Education department interview
A minimum undergraduate GPA of 3.0
Prerequisite Courses:
HD 311: Prenatal through Early Childhood Development*
HD 312: Mid-child through Adolescent Development*
HD 230: Lifespan Development*
EDPSY 420: Learning Theory
ED 555 or SS 353: Cultural Diversity
ED 415/515: Classroom Management
The MAT courses for study include (35 credit hours):
ED 551: Foundations
ED 661: Education Research
ED 576: Instruction Methods
ED 577: Education Trends
ED 535: Curriculum Planning and Instruction
ED 596: Assessment
ED 575: Literature in the Content Area
ED 691: Student Teaching IA***
ED 692: Student Teaching IB***
ED 690: Student Teaching II***
ED 555: Cultural Diversity (transfer in)
ED 515: Classroom Management (transfer in)
*Courses TBD at TSPC meeting 7/31/2014
**Taken spring of senior year, includes a 30 hour practicum
***Full time with evening seminar
For additional information, we invite you to contact Dr. Juanita Sinclair, Education Department, at 503.517.1580.