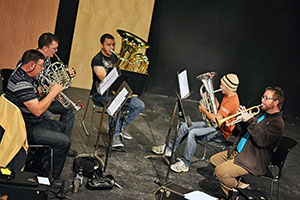 From classical to jazz, Christian contemporary to traditional church music; you'll find our students expressing their artistic gifts through a wide variety of musical callings. The Warner Pacific Department of Music prepares students for careers in Performance, Ministry, Education, and Music Business.
Interactive learning labs, multiple performance venues, professional internships, and a state of the art recording studio are just some of the resources that will help shape your experience.
The B.A. in Music offers three possible emphases: Music Performance, Music Studies, or Music Theory/Composition.
Each emphasis consists of 15 credits, including at least five credits in residence and at least 11 credits of upper division (MUS 300+) courses. No course may be repeated. A second emphasis may be earned with an additional 15 credits in courses not counted toward any other emphases or majors.