Advocating for Social Change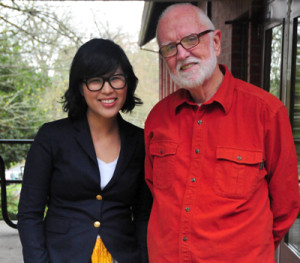 Faculty members: Dr. Arthur Kelly & Stephanie Mathis
Linked Courses:
Fall—EN 101, College Composition
Spring—MC 220, Spiritual Formation
How can I practically be a responsible, Christian citizen engaged in doing justice, loving mercy, and walking humbly with God?
The topic is multi-faced in the disciplinary areas of spirituality, political science, sociology, economics, history, urban ministry, and social work. Each of these are deeply intertwined with one another, challenging the student to learn the skills to socially analyze any justice issue wherever they may live, gain resources for theological reflection, and empower them to discover and use their voice for social justice. Students will specifically look at local social justice issues of prison reform, human trafficking, and immigration and current legislation and gain tools for tangible social change.
Christ-centered: The course is deeply rooted in the biblical understanding of justice as God's character and mission. Students will be challenged to live out Karl Barth's saying to read the newspaper in one hand and the Bible in the other. Students will be encouraged to dialogue with their personal faith story as well as the Biblical narrative around each of the social issues.
Urban: The city of Portland is our textbook as we step into its complexity and step away to observe its social injustices through power, privilege, and position.
Liberal arts: As holistic learners, the students will engage how to think critically about the world around them through readings, observations about our city
excursions, writings, film, building relationships, conversations amongst themselves and Portlanders.
Diverse: We will engage in our diverse personal stories as human beings with common suffering and dignity. We will encounter the city of Portland's people groups and their stories that have experienced marginalization because of reasons such as class, age, disability, abuse, education, health, gender, and race.
Activities
Visiting politicians, policy-makers, prison, the State Capitol, and local social advocates
Conversations with immigrants and refugees, those on the ground level working with human trafficking and survivors, and listening to stories of those in the prison system
Exploring your story and using your unique voice to advocate with those behind bars and borders
Learn how to educate and advocate about social issues
Gaining a biblical foundation for the meta-narrative of justice