Developing Leaders in Portland
Faculty members: Dr. JoEllyn Murillo Fountain and Dr. Cole Dawson
Linked Courses:
Fall—HIS 207-LC3
Spring—PS 140-LC3
Who are you?  How you answer that question and what you learn about yourself (strengths, weaknesses, passions, personality, challenges, and privileges) will help you engage to make positive changes in Portland, the WPC campus, and beyond.  Developing these skills of self-awareness will also translate into your ability to discern qualities of leadership in others, such as political candidates. You will also be able to connect with and learn from local leaders about how you can impact society.  Understand your own story in the context of wider PDX!

In this First-Year Learning Community, students will…
Learn to navigate college life
Evaluate and build your own leadership strengths – no previous leadership positions required
Learn from and alongside leaders in PDX how to engage in advancing society
Discuss and discern patterns of power and privilege and how they impact  your life, in the lives of those around you and in the lives of political and social leaders
Analyze the social and political challenges facing PDX in this election year
Examine issues of justice and injustice in social and political structures, policies and practices
Learn to think critically and creatively about living in and contributing to an increasingly diverse world
Build community through awareness of personal power and privilege
---
Meet this FYLC leaders: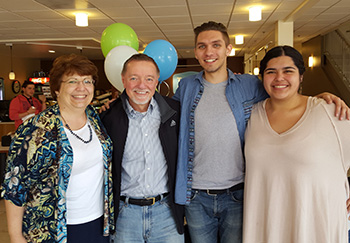 Dr. JoEllyn Murillo Fountain: I am teaching in the FYLC program because I want to connect with students personally and academically in a meaningful way. I am looking forward to spending an entire academic year with the same group of students, faculty, and peer mentors learning together and building a unique community. I can't imagine a better way to learn to "do college" than through the FYLCs.
Dr. Cole Dawson: Working in the FYLC program provides a fantastic opportunity to explore new areas of growth and understanding by building a community of learners. The idea of studying power, privilege, and identity in a presidential election year, with such a varied cast of characters (the candidates) fills me with anticipation of a great adventure.
CJ: I'm excited to be a Peer Mentor because I get the opportunity to help build a community in which students feel safe engaging in the college experience.
Elianna: I'm excited to be a Peer Mentor because I love to pour into the lives of people. Being able to connect with students and help them form relationships on campus is going to be such an amazing adventure! I can't wait to make new friends!