This FYLC is full. Please choose from the remaining groups.
In Design and Print Culture in Portland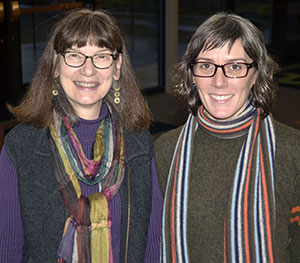 Faculty members: Windy-Ayers Wray & Dr. Pam Plimpton
Linked Courses:
Fall—EN 101-LC7, College Composition
(EN 104x-LC7)
Spring—EN 200-LC7, Advanced Composition
How can you fit into the world of "print culture" — magazines, blogs, graphic novels, and cartoons– in Portland?
In this First-Year Learning Community, students will…
Explore how images and words play out in Portland's media culture by actively engaging in service opportunities
Get training in Adobe Creative Suite InDesign program and design your own image and word pieces to promote a project you are involved in
Make contact with Portland professionals working in marketing, promotions, editing, writing, and publishing
Apply the principles of good design, well-edited writing, and well-considered images to the ideas you put forth in the texts you
---
Peer Mentors
"I look forward to being a Peer Mentor because it gives me an opportunity to create an atmosphere where freshman feel welcomed to and comfortable on this campus."—Ashleigh
"I'm looking forward to being a Peer Mentor because I get to walk alongside new students as they begin some of the greatest and toughest times in their lives, giving them the same unconditional and open-armed love I received as a freshman!"—Trevor