Advocating for Social Change in Portland
Faculty members: Jeanie Whitten-Andrews and Dr. Arthur Kelly
Linked Courses:
Fall—EN 95-LC4
Spring—EN 101-LC4
How can you use your experiences to promote long-term social change in your community? What might the "common good" look like when examining access to affordable housing? How might you uniquely contribute to this? How might social justice and a Christ-centered approach go hand in hand?
In this First-Year Learning Community, students will…
Share and examine complex personal experiences within the context of community
Examine the issue(s) of affordable housing through lenses of race, sex, class, gender, age, and religious affiliation, with a high value for students' personal experiences in the process of learning together
Connect and work with different community organizations in Portland that are advocating toward social justice and affordable housing
Become acquainted with Oregon's political systems and practice engaging in political advocacy
Examine and experience both traditional and creative methods for engaging in political advocacy toward social justice
Explore the roles that their particular faith traditions (if any) connect to an ethical response to issues of social justice and affordable housing
Explore the ways that a Christ-centered approach (connected to Warner Pacific's mission) might require a social justice approach to affordable housing
---
Meet this FYLC's leaders: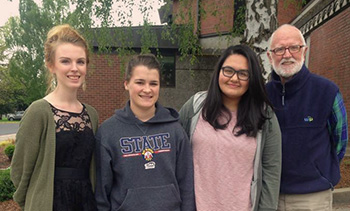 Prof. Jeanie Whitten-Andrews: Working in the FYLC program provides me with a uniquely collaborative opportunity to work with staff, faculty, community members, and students to help establish a sense of belonging, community, empowerment, confidence, a passion for social justice, and familiarity with and engagement in the city of Portland which will ultimately lead toward the empowerment of WPC students as change agents and healers in their communities.
Dr. Arthur Kelly: Working in the FYLC program provides me with the opportunity to fulfill a life time passion of working in a collegiate relationship with faculty and students who, together, plan and implement a significant life changing communal learning experience. I love it!!
Montse: I am excited to be a Peer Mentor because of the opportunity to foster a community of passionate learners alongside incredible faculty. I am also thrilled to help incoming students navigate college and to build friendships that transcend the classroom.
Regina: I am looking forward to being a Peer Mentor because it will be a great opportunity to create a relationship with both professors and incoming students and to be able to encourage both sides through the year.