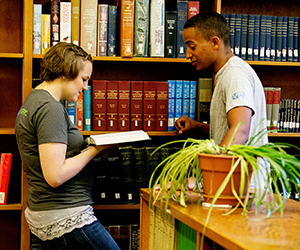 Are you interested in stories? Do you read and/or write a blog, a journal, poetry, graphic novels, short stories, novels, memoirs, articles? Do you like to watch, perform in, or write for theater and film productions?
Warner Pacific's English degree offers you the opportunity to compose, perform, and publish your original work as well as read, discuss, and write about writers, poets, dramatists — artists who are indeed "legislators of the world."  What we read, perform, and create changes the world.
Be a part of changing the world through the world of words.
CLOSE READING AND CRITICAL THINKING: The study of English develops students' reasoning capabilities, deepens their understanding of diverse cultural issues, and improves their abilities to analyze and produce complex texts from a variety of critical perspectives. The curriculum offers a compact survey of literature in English as well as courses in film, drama, communications, world literatures, and special topics such as gender identy, war and its aftermaths, and ethnic and minority experience, for example.
CREATIVE WRITING AND PUBLICATION SKILLS: Students interested in creative writing will find outlets in writing for fiction, poetry, and nonfiction. Many students submit their work for publication in Warner Pacific's student publications. The student-run Knight Times News Magazine (published four times a year) and literary journal, Rocinante: A Journal of Art and Literature (published annually), provide students the opportunity to write for and edit print publications. Students receive training in InDesign, software used for publication by professionals in numerous professions.
PRE-PROFESSIONAL PREPARATION: An English degree will hone your critical thinking skills essential to a number of career fields, including writing, editing, publishing, teaching, and research, advertising, public relations, law, and finance. Students interested in obtaining an MAT and certification for teaching Language Arts in Middle and High School may enroll in the Education Department's 4.5 MAT program. Students completing their major in English may continue their studies in Education and complete their certification and licensing within one summer and a subsequent semester.
OFF-CAMPUS STUDY: All Warner students may apply for off-campus study programs which include study at Oxford University, Oxford, England and the L.A. Film Studies Center. In addition, English majors participate in an internship program, which provides venues for practical application of classroom learning. Students intern with organizations such as Portland Literary Arts, the Gresham Outlook newspaper, and with educational programs for tutoring students at local K – 12 schools .
LOOKING FORWARD: English majors have gone on to earn graduate degrees in a variety of disciplines. Recent graduates have earned an MA in English at Oregon State University, an MFA in Creative Writing at Spalding University, an MFA in Drama at The New School in New York and a Ph.D. in Philosophy at the New School in New York.
---
The following articles are testimonies to the value of an English degree to the fields listed above as well as to many others: