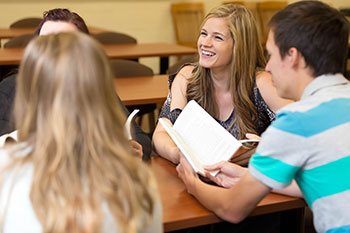 Our American Studies degree is a major for students who want to focus their academic work around American society and culture.
The Humanities department provides students with scholarly and practical opportunities for learning about the discrete disciplines of Communications, Drama, English, the Fine Arts, History, and Philosophy.
Students are also offered the opportunity to ground their undergraduate experience in an American Studies, History and Social Studies, or Liberal Studies majors, as well as the Humanities Core curriculum courses.
All Humanities courses are designed to instill in the student the significance of and the means by which discrete disciplines within the Humanities interact not only with each other, but also with fields of study outside the traditional purview of the Humanities. Learning is done with a conscious awareness of how the study of the Humanities relates to a Christian worldview.
What Can I do With this Degree?
American Studies majors often use their degree as a springboard into graduate school. Law, education, and history are a few of the options available for further study. Graduates will also be ready for employment in government, non-profit organizations, or business.