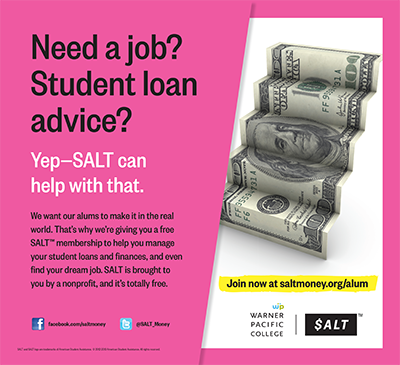 We are here to help you not just during your time at Warner Pacific, but after you've graduated.
Quick Links:
---
You are invited to an alumni-only career expo hosted in Portland on Thursday, January 30, 2014. Whether you're looking to network or for a new career in finance, investment banking, marketing, technology, media, nonprofit, consulting, and more, you will find all the best opportunities at Recruit Portland. MyWorkster pre-selects all the employers to only include the best companies and opportunities in the Portland area. Advance registration required. Click here for all the details on how to register for this the career expo.
---
CampusPoint helps connect employers with energetic and talented college students and graduates. Through technology innovation and strong on-campus presence, CampusPoint has helped employers successfully fill 1,000 jobs in the Pacific Northwest last year.
It's easy to get started with CampusPoint:
Click on the "Portland" or "Seattle" area
Click on the "Register Now" to register
Create your CampusPoint  Resume online
Read through your jobs and hit the "Apply" button
---
Liberty Mutual is offering our alumni a special discounted rate on Auto Insurance and Home Insurance. Visit Liberty Mutual Discounts and savings are available where state laws and regulations allow, and may vary by state. To the extent permitted by law, applicants are individually underwritten; not all applicants may qualify.
SALT™ is a free, nonprofit-backed resource that makes it simple for you to take control of your finances and student loans. Sign up now to:
Track and plan your student loans
Get personalized guidance about tricky loan stuff
Find scholarships, internships, and jobs
Gain know-how that empowers you to be money smart