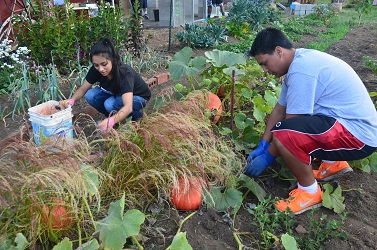 "Where faith and scholarship lead to service," is the motto of Warner Pacific College, and it was put into action today as over 300 students, staff and faculty members stepped out of the classroom to serve the Portland community as part of the College's 9th Annual Common Day of Service. The work completed today served more than 1,500 people and provided an estimated economic impact of nearly $29,000.
The Common Day of Service began at 9:00 a.m. with students gathering in the College auditorium for a brief time of prayer before being sent out to sites throughout Portland. Service projects included removal of invasive plant species, fall planting projects, trail work, general clean-up, and painting guardrails around Mt. Tabor. In addition, groups provided vital support to 12 local schools and community organizations, assisting in tasks such as facilities  improvements, graffiti abatement, hunger relief, and interactive projects with elementary and middle school students.
"The Common Day of Service is really about celebrating who we are and renewing our commitment to our community for the coming year," said Eli Ritchie, Student Programs and Service Learning Coordinator at Warner Pacific. "It is effective as a large demonstration of our shared values and we hope individuals will be inspired to keep serving. We aren't done yet."
The Common Day of Service began 9 years ago, when a student asked local schools and organizations how Warner Pacific could help support their efforts in the community. Since then, the event has been embraced by the entire College and is a welcome way to kick-off each new school year.
"The students, staff, and faculty of Warner Pacific are committed to helping meet the needs of our neighbors in southeast Portland," said Dale Seipp, Vice President for Enrollment and Marketing. "We celebrate our urban identity and view the city as a classroom. Students develop personally, spiritually and professionally through hands-on service to their community."